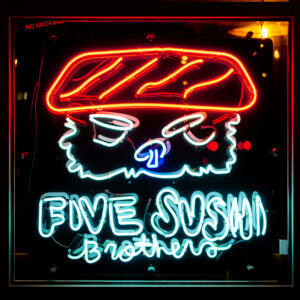 Welcome to Five Sushi Brothers...
Five Sushi Brothers is a beloved fast-casual sushi spot outside Salt Lake City, UT, founded by brothers Jacob and Ammon Chung in 2016.
Starting with late-night sushi deliveries, Five Sushi Brothers quickly won the hearts of college students and young professionals looking for alternatives to the usual fast food options.
Today, Five Sushi Brothers operates their profitable quick service restaurant across two locations, including a casual dine-in experience with a side of Smash Bros video games for those who dare!
Here's how Five Sushi Brothers went from delivery-only to operating multiple profitable quick service restaurant locations...
A Lesson in Overcoming Challenges
👉 Discover the backstory of Five Sushi Brothers and how they tackled common staffing challenges in the restaurant industry.
👉 Learn about their strategic decision to open a second location and the challenges they faced along the way.
Roadmap to Success
👉 Explore the obstacles encountered by Five Sushi Brothers and how they worked withTable Needs to develop solutions.
👉 Uncover the benefits of a streamlined Point of Sale (POS) system, integrated online ordering, and an efficient kitchen display system (KDS).
👉 Understand how scalability with Table Needs turned Five Sushi Brothers' dreams of expansion into reality.
Real Results, Real Growth
👉 Witness the realization of their dream—a successful second location, thriving in both daytime and late-night hours.
👉 Hear from Jacob Chung, co-founder of Five Sushi Brothers, as he shares how Table Needs played a pivotal role in their journey.
Explore Table Needs
👉 Discover how Table Needs can empower your restaurant with its range of solutions, from point-of-sale excellence to marketing and bookkeeping support.
Ready to learn how Five Sushi Brothers became a profitable quick service restaurant?